HAPPY THURSDAY!!! I have a feeling it's going to be a great day! After the fiasco that was yesterday, it better be a good day :) You know what thursday means.. SONG LINK UP!!! (my total favorite!)
So head on over to
Good Night Moon
and check out the different songs!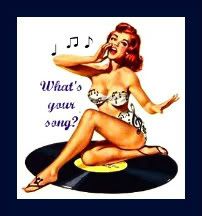 This week I am going to share with you "our songs" but before I do I should remind you all that we aren't the standard couple. We are goofy, and not very traditional when it comes to the romantic stuff. We find our songs in the most random ways, and why they become our songs beats me. haha
Our first song isn't originally from
Loony Tunes,
but that is where we first heard it and fell in love. I often write "send me a kiss by wire, baby my hearts on fire" on the envelope when I send him letters.
Our next song is also from
Looney Tunes
. It's such a catchy tune, and we sing it to each other all the time, but instead of saying "I love to singa" Jake says "I love Da Baby" (that's what he calls me) I say "I love Da Boy" (what I call him) .
Our last song is mildly more traditional, still not a slow dance song, but it works with our personalities. We love Dave Matthew's Band and this song is just so fun!
I love that we aren't the typical couple, it suits us well. However, it was a little weird picking our first dance song at our wedding, we considered busting out one of the
Looney Tunes
songs, but we figured it would be awkward to dance to, and people might just be confused. So instead we danced to "Can You Feel The Love Tonight" by Elton John. It was appropriate for a wedding, but was from the
Lion King
so it still had our little kid aspect. I hope you enjoyed our songs! remember to go check out the link up and see what everybody else is listening to this week!